You may be new to the thrilling and potentially lucrative world of playing slot machines if so, why not take some time to check out our other guides, which cover topics and provide answers to questions such as what are expanding reel symbols, what is the best progressive slot strategy, and even what is a good slot game staking strategy.
In the last decade, the world of online slot machine gaming has exploded, transforming into a multibillion-dollar global industry. Revenue from online casino gambling tripled between 2005 and 2015, changing the way the industry and everything linked with it is seen.
The concept that online gaming is mainly aimed at younger guys is outdated. According to recent studies, the online gaming population has widened to include both women and people in their later years.
The industry's embrace of demographics through themes aimed to appeal to players of all ages and genders has fueled this boom in online slot playing.
The massive increase in the number of slot games available online, including themes ranging from classic fruit and jewel slots to newer slots based on movies, TV shows, and pop culture icons. They have created an all-inclusive culture, where everyone is welcome and all preferences and desires are considered.
So today, we'll take a look at one of the best slot machine games online, the Reel Gems Deluxe Slot.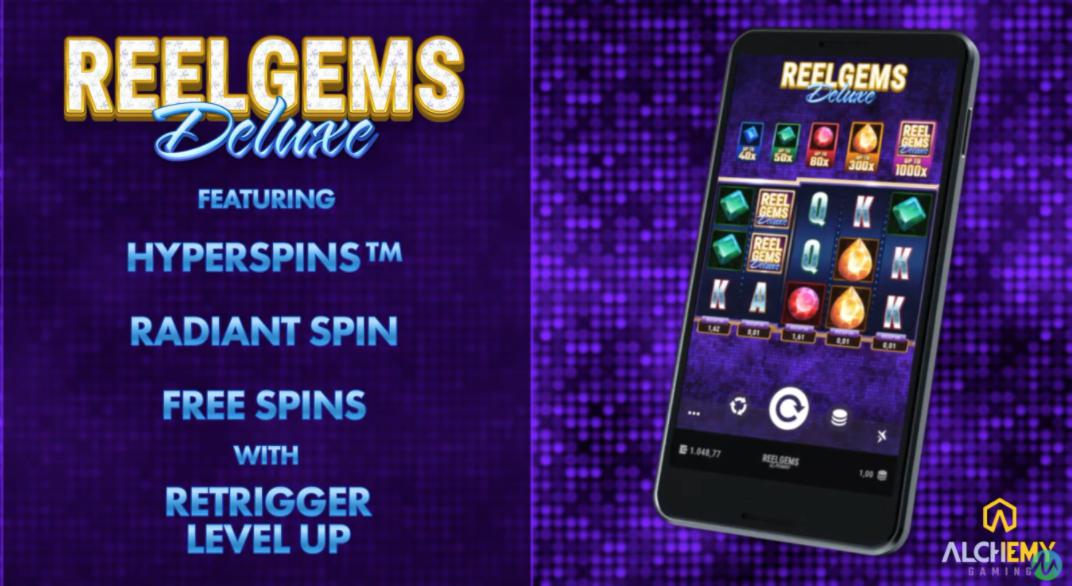 Alchemy Gaming and Microgaming teamed up for the third time to release together. Reel Gems Deluxe Casino Slot Online is the most recent version of this slot game that debuted in 2010. The Deluxe edition appears to have lived up to its name, as it offers improved graphics, superb features, and the potential to win big!
Reel Gems Deluxe Slots has maintained the incredibly popular gemstone concept, so that aspect of the game does not contribute significantly to its uniqueness. You play with 20 active lines and 5x3 reels, but there is a fascinating re-spin feature that you can activate whenever you choose (provided that you have the funds for it).
How to Play Reel Gems Deluxe Slot - Step by Step Process
To start the game, just press the spin button on the left-hand side of the reel set to make the jewels rock and roll. A stack of coins appears beneath that button, from which you can choose your stake amount. The maximum stake amount is $100 every spin, with options ranging from 20 cents to $100 per spin.
Selecting the autoplay button, which can be found above the Spin button, is one of the ways on how to play Reel Gems Deluxe Slot. The player can choose between 10 and 100 automated spins from the menu.
Finally, by clicking the main menu button in the upper right corner, players can view the paytable and prospective rewards.
Regular combinations can payout up to 15x the stake on each line, while wilds can payout up to 50x the stake. During the free spins, completing combos on up to 20 lines at once becomes significantly easier, and payouts as high as 1,000x the stake can be won in a single spin. With the maximum wager, the jackpot may be worth up to $100,000.
Jackpots & Bonuses in Reel Gems Slot - Pros and Cons of Playing the Game
10 bet values can be found in a separate menu when you push the button with piled coins. The wagering possibilities will range from $0.20 to $100. You get 20 lines in exchange, with line-bets ranging from $0.01 to $5.
Reel Gems Deluxe's top reward is $100,000, the maximum jackpot payout for a single spin. In this case, the free spins can be highly beneficial, as making combos on up to 20 lines at once becomes significantly easier.
Though the reward is pretty good, it should be noted that this game has high volatility. That's not to say there's anything shady going on; it just means the math model may not be as beneficial for those gamers who prefer a high risk/high reward scenario. However, things may change if you receive many free spins with the potential to win large.
Otherwise, the Return to Player (RTP) is set to a reasonable level of 96.36%, so it is still a fair game.
Pros:
The community passing rate for Reel Gems Deluxe is 4 out of 5
$0.01 game wager per line
It has a 96.36% RTP
Free spins
Comes with many features
High rollers with a maximum stake of €/$ 100 are catered for
Reels Gem Slots mobile phone is available
Cons:
The likelihood of a top win isn't as high as it appears
The visuals are not that high-end, but it doesn't affect the gameplay
Conclusion - Is It Worth Playing?
Finally, after reviewing this game is one question you've probably had to ask yourself. Is it worth playing the Reel Gems Slots game?
If you're seeking a video slot that's brimming with gems, diamonds, and jewels, Microgaming's Reel Gems Deluxe could be the game for you. Even though it has a small number of features and mechanisms, it manages to include both Free Spins and Re-Spins.
The visuals, on the other hand, aren't really impressive. The concept of the slot is precisely what you'd expect from a title called Reel Gems Deluxe, with all kinds of valuable stones adorning the simple reels.
You can play Reel Gems Slots at any Microgaming licensed online slots casinos.
Related article: Find Out Why Reel Gems Deluxe Slot Game is the Best Slots Game of 2021
Guides Similar to this Topic