Many people have the impression that all online slot games are the same - and while it's true that most of them work the same way, their aesthetic and the overall vibe are definitely different, no matter which online slot you decide to play. A perfect example of a non-standard slot game could be Nitropolis.
In this article, we will talk about the Nitropolis online slot game - what it is, how to play it, as well as share some tips so that when you play it next time, you increase your chances of winning, even if it's a small amount.
What Is Nitropolis Online Slot?
Nitropolis is one of the slot machines developed by ELK Studios. Although this particular one is not among free slot games, you can play a free demo version of it, so see whether you will like it or not really.
The game takes place in a world after an apocalypse, which is run by four gangs. Those are the Dirty Dawgs, the Gritty Kitties, the Pug Thugs, and the Rouge Rats. They all have the same goal, and that is to get a hold of a green fuel - the Nitro. However, only one gang can get their hands on it - the question is which one will it be.
How to Play Nitropolis Online Slot
Now that you know what the Nitropolis slot game is all about, we can move on to the next important thing - and that is how to play Nitro. If you want to get more specific, you can check out our Nitropolis review, as now we will just briefly talk about the most important aspects of Nitro casino slots.
Nitropolis provides its players with even up to 80 million ways of winning. As it is with other online casino games of this type, you win by matching at least three symbols on the grid. Aside from regular symbols, which differ from each other with the amount they payout, there are also Wilds, which can substitute any symbol aside from the Scatter symbol, and the Scatter symbols, which activate the bonus game. There are three bonus features in this game - the Nitro Reels, the Re-Spins, and the bonus game triggered after landing at least three Scatter symbols.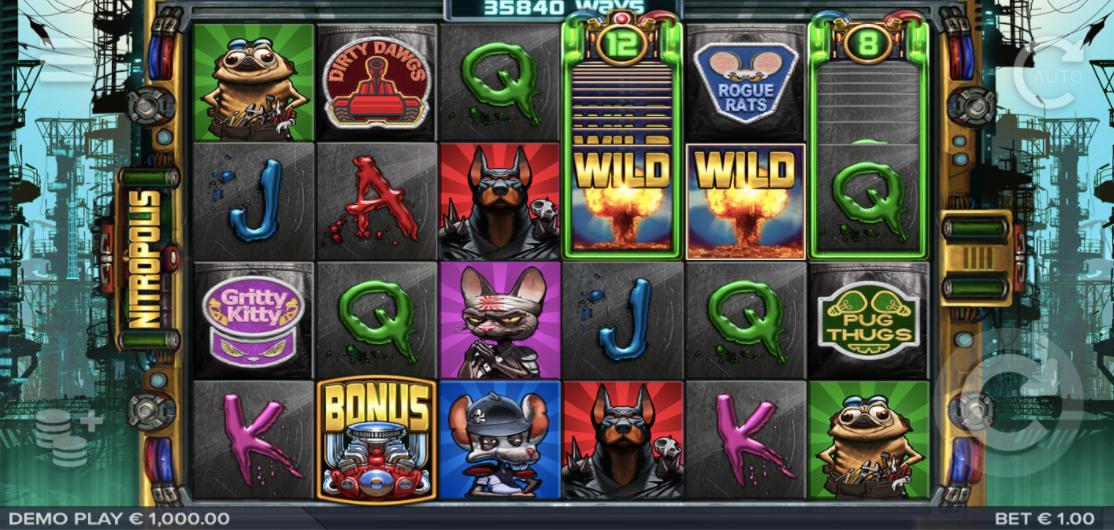 Tips for Winning Big at Nitropolis Online Slot Machine
Although it might seem as if winning at slots would be easy - after all, the only thing you do is spin the reels - the truth is slightly different. Slot machines, no matter if it's a free slots machine or a real money one, are extremely random, as they use RNG (random number generator). Does it mean that there's no way to increase your chances of winning? Not really - there are a few things you can do to help your luck. Do they work 100% of the time? No, but they work enough for them to be worth trying out.
The first tip we want to share with you is sticking to your budget - and while it might seem like it's not important, it is actually quite the opposite. When playing slots, it is very easy to get carried away and spend most of your money - and that's something you should never do, no matter how lucky you feel.
The second thing you should keep in mind is not to bet the maximum amount - even if it's a progressive jackpot, which Nitropolis is not. Not only will you go through your payroll faster, but spending more money on a single bet does not guarantee that you will win more than if you would bet less. There are plenty of stories of winners who bet less than a dollar on a slot machine and still won millions.
Last but not least, make sure to take advantage of the bonus features - especially in the case of Nitropolis, where you have the option to purchase the bonus game without landing the Scatter symbols. After all, bonus features are there to help you win.
Conclusion: Why Should You Choose Nitropolis for Your Gambling Needs?
There are a few different reasons why you should choose Nitropolis as the next slot game to play. However, the most important one is simple - the game is fun. ELK Studios really outdid itself when it comes to creating an original slot game that spikes one's interest. Not to mention that it provides the player with 80 million different ways to win. The RTP is also worth mentioning - at 96.1% it is not the highest you can encounter, but it is still a good one. We'd say a standard for the online slots industry.
So, what do you say? Are you ready to transport yourself to the post-apocalyptic world ruled by four gangs? We definitely are! And if you want to find some more slot games to try out, make sure to check out our 'online slots' page - we're sure you'll find something worth your time.
Related article: The Evolution Of the Classic, Fun and Addictive Slot Machine Games - What You Need to Know
Guides Similar to this Topic