Monopoly Live Features
As we said, this game is similar to Dream Catcher (with the big spinning wheel and all), so you should be able to jump right in without a problem if you have played that one. It has a Monopoly theme to it, and that comes with its own set of cool features. However, this does not mean that you will have a tough time getting the reigns of the game if you have not played Dream Catcher – Monopoly Live is relatively easy to grasp.
Basically, you have a big wheel that is divided into segments, each with a position on them that you may or may not wish the wheel to stop on. The positions are 1, 2, 5, 10, 2 Rolls Bonus, 4 Rolls Bonus, and Chance Card. The board is filled up with the positions appearing a number of times, with the low-value positions like 1 appearing 22 times and high-value positions like 4 Rolls Bonus appearing only once.
How to Play Monopoly Live
The host spins the wheel after you place a bet and guess which position it will stop on. This is as simple as it gets when it comes to playing Live Casino games. The numbered positions pay an amount equal to their value. That means if you bet on position 1 when it lands on that position, you will get a 1:1 payout. Similarly, if you bet on 10 and it lands there, you will get a 10:1 payout (10 appears only four times on the wheel).
Now, the game can be as serious or as easy going as you want it to be. For casual players, they can bet as low as 10p, which is the minimum. But if you want to make it more exciting and intense, you can make bets of up to £2,500.
Monopoly Live Game Bonuses
Of course, the base game needs a little more flavor, which is where the bonus games come into play. If the wheel stops on either the 2 Rolls Bonus, 4 Rolls Bonus or Chance Card, a bonus game is triggered, which could only mean it is time to multiply your winnings!
2 Rolls Bonus and 4 Rolls Bonus
If you guessed that the wheel would land on the 2 Rolls or 4 Rolls position, then the screen will be replaced with a 3D-rendered version of the traditional Monopoly game. This is an augmented reality board with all the features of the traditional Monopoly board that you know and love (or hate), including the Go, Community Chest, Chance, hotels, houses, and jail.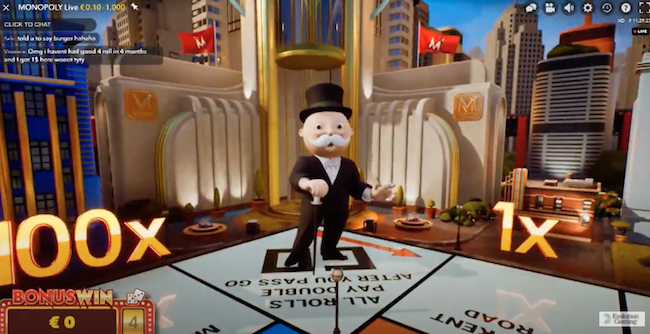 The way this works is also quite simple. If you land on 2 Rolls, you get to roll the dice two times. And if you land on 4 Rolls, you roll the dice four times. You can increase the number of rolls you get if you roll a double. This means if you roll two sixes, you get another turn. Then Mr. Monopoly will move to the position on the board where you rolled and collect the prize (it could be a cash prize or multiplier).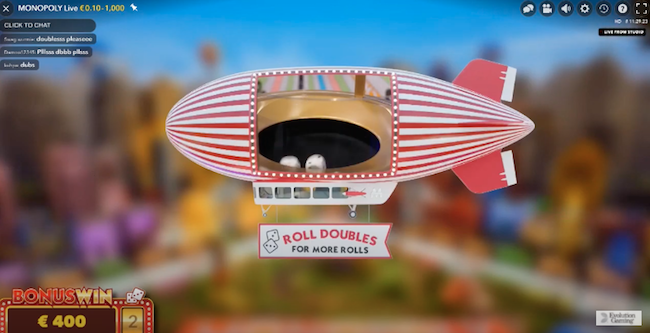 Obviously, the further you go, the more prizes you win. And you would want to make it past Go, which is when all the positions on the board, from the Community Chest to the various properties, double in value. This is an intense and exciting bonus round.
Of course, you have to avoid the dreaded "Go to Jail" corner piece, which will send you directly to jail. And since this is a recreation of the actual Monopoly game itself, you can easily get a "Go to Jail" card when you land on the Community Chest and Chance positions. To get out of jail, your next dice roll needs to be a double or you need to roll the dice three times.
You can also draw a card that forces you to pay an income or super tax from the Community Chest and Chance. These cards take away 10% or 20% of your earnings, respectively.
Chance Card
When you hit the Chance Card on the wheel, at the start of the game, Mr. Monopoly will have a Chance Card with him. It could be a cash prize or a multiplier. If it is the latter, the host will spin the wheel again. If the wheel stops on any of the numbered positions and it is your wager, your winnings will get multiplied by the multiplier.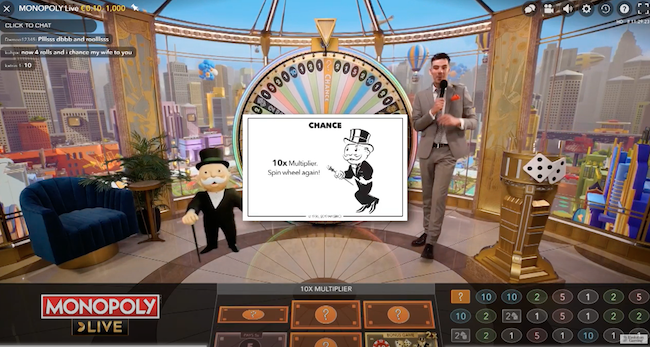 If you land on the Chance Card position again and it is a multiplier, your previous multiplier will be multiplied by the new one. So, you could potentially stack multipliers up to x1000. Afterward, the final multiplier will be applied to the positions on the Monopoly board and the real bonus round will begin. And if you make it to Mayfair, which is the highest valued position on the board, you could potentially win big.
Conclusion
With the easy-going nature of the game, it has massive appeal to both newcomers and people looking for a fun, casual Live Casino game. However, do not be fooled – this is no mundane Wheel of Fortune or Dream Catcher clone with a Monopoly twist. It has enough fun and unique bonus features that can lead to surprising twists in the gameplay experience, making it worth checking out.