Crazy Time Live Casino Game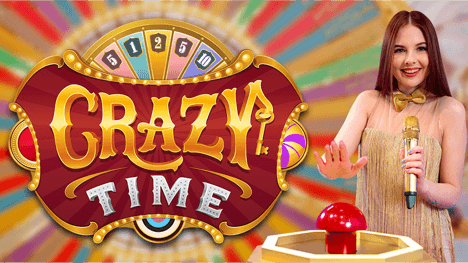 There is always a considerable amount of hype when Evolution Gaming is releasing another Live Casino Game. And for good reason since they are riding off the highs of many successful wheel-spinning games – Dream Catcher being one of their latest and greatest. With Crazy Time Live, the masters at Evolution Gaming have done it again, essentially giving you five games in one.
Basically, you have the base game and four bonus games all packed into one. The rules are quite easy to follow as well, and you do not need to dedicate a lot of time and energy into understanding them like other games. This ups the appeal of Crazy Time Live to newcomers and casual gamers alike.
However, that is not to say that there is not something for serious players here. When taken seriously, this game brings massive thrills and a promise to walk away with nice cash prizes. Here is everything you need to know about Crazy Time Live.
read more
Play Crazy Time at these Casinos
CASINO
BONUS
INFO
RATING
PLAY

200%

Bonus

Get a 200% match deposit bonus
Launched in 2017 and licensed in Curacao
Good selection of deposit methods, incl. Bitcoin

$10,000

Bonus

Get $10,000 free sign-on bonus
Fully licensed online casino in Curacao
180+ games on offer

$8,888

Bonus

$8,888 Welcome Bonus
Newly launched in 2017
Licensed in Curacao
179+ games to keep you entertained
Crazy Time Live Game Features
According to the features of the game, Crazy Time Live does not really shake up the formula all that much. You have a wheel that has been divided into various positions. You have the numbered positions, which are 1, 2, 5 and 10. These appear 20, 13, seven and four times on the wheel, respectively.
Then you have the bonus positions. Each of these positions comes with its own exciting bonus game that you play to win either cash prizes or multipliers. The names of these bonus positions are Coin Flip, Cash Hunt, Pachinko and Crazy Time. And they appear four, two, two and one times, respectively.
This brings the total number of positions to 53. You can place a bet on any of them, depending on how lucky you are feeling.
How to Play Crazy Time Live
Playing Crazy Time Live is not that difficult. All you have to do is make a bet on a position and watch the host spin the wheel. If the wheel lands on the position you wagered, your winnings either get multiplied or you trigger a bonus round. The numbered position will multiply your wager based on the corresponding number. So, this means that you land on a 2, you get a x2 multiplier on your winnings.
As you can see, the low-valued numbers appear more frequently on the wheel than the high-valued numbers. So, if you are feeling on the safe side, you might want to stick with positions 1 and 2. The riskiest position is the Crazy Time position since it only appears once on the wheel.
Crazy Time Live Game Bonuses
As mentioned earlier, you have four bonus games to look forward to, each with its own fun rules.
Coin Flip Bonus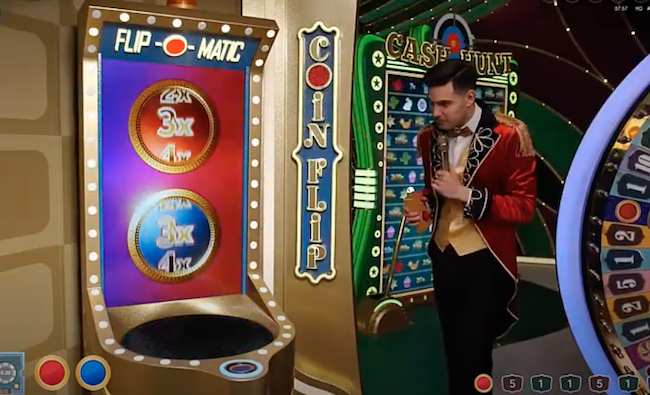 When the wheel stops on the Coin Flip position, you will immediately see a coin with a blue and red side. Each side will show a multiplier that will be added to your winnings should the coin flip land on that side. Then the host will flip it into the Flip-o-Matic machine. When the coin comes out of the machine, the side facing upwards is the multiplier you will get.
Since this bonus position appears four times on the wheel, this is the one you are most likely to get. And there is a Rescue Flip that can be given to you in case you get a low multiplier – so fingers crossed on this one.
Cash Hunt Bonus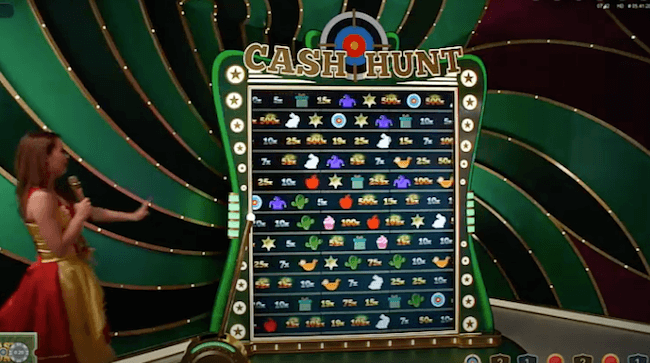 The Cash Hunt bonus is more interactive and fun than the coin flip bonus. In this round, there are 108 multipliers that are hidden behind symbols and shuffled around. So, there is no discernible pattern here to always hit the high multipliers. The object here is to choose a symbol to reveal the multiplier.
Once the host shuffles the symbols by pulling the golden lever, a rifle scope will appear on the screen. You then use the mouse to aim it at the symbol you think will yield the highest multiplier and then fire it with a mouse click. With this round, you can have a chance of nabbing yourself a multiplier of up to 25000x.
However, you need to keep in mind that there are only two positions on the screen that can activate the Cash Hunt bonus round.
Pachinko Bonus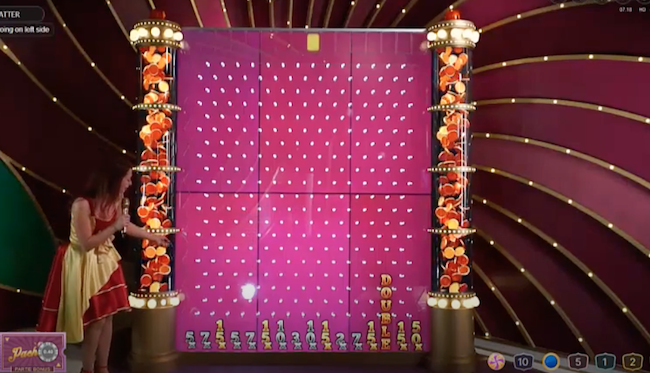 Also, fun is the Pachinko bonus round. A pachinko machine is a combination of a slot and a pinball machine. There are 16 drop zones at the bottom and a ball is dropped from the top. The zone it lands on is the prize that you will get. Each zone is randomly populated with either a multiplier or the word Double.
Now, it is not just a matter of dropping the ball and watching it fall straight down to the prized landing zone. There are rows of pegs in between that bounce the ball around in different directions once it has been dropped.
When the ball lands on a multiplier, your winnings are multiplied. But if it lands on the word Double, the other multipliers are doubled, and the ball is dropped again. This can happen again and again until you reach the 10,000x multiplier, which is the maximum. There is also a Rescue Drop feature that can be awarded when the ball lands on the 2x-4x multipliers.
Crazy Time Bonus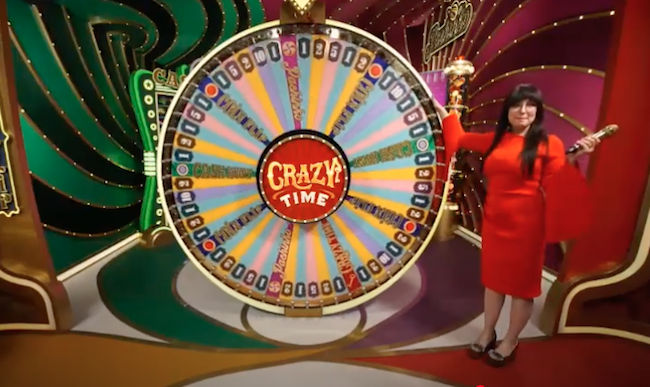 The Crazy Time bonus is the most rewarding of all the bonus rounds. Here you have a chance of winning up to 20,000x your wager. This means it is not particularly easy to land in this position. But once you do, you are taken to another wheel, which is virtual, with 64 positions filled with multipliers.
There are three flappers (green, blue, and yellow), and you pick one before the round starts. Once the wheel stops, you get the multiplier for the flapper you selected. If you hit a position with the words Double or Triple, the other multipliers are doubled or tripled, respectively. Then the wheel is spun again.
Conclusion
Crazy Time Live is not just one game but five games in one. Just when you thought Evolution Gaming cannot switch up the formula, they do it in a subtle way. You can play it in a laid-back manner and execute a betting strategy to maximize your winning. But in whichever way you play, you will have some fun.