Twin Spin Megaways is a thrilling online casino game that's just waiting for you to play it. With its potential for huge payouts of 38000x your stake, this slot machine could change your life!
In this guide, we're going to teach you everything you need to know about playing Twin Spin Megaways, from its basic rules and features to some advanced tips and strategies. So strap in because things are about to get exciting!
Introduction: What Is a Twin Spin Megaways Slot Machine?
Twin Spin Megaways Slot is a video slot machine from NetEnt and is a superior updated version of their original Twin Spin Slot.
Big Time Gaming introduced Megaways slots to casino fans in 2016. They were an instant hit because of the Megaways system that makes use of a special engine that allows for more winning combinations to be created than in traditional slot games. This makes them perfect for players looking for a high-action, high-payout gaming experience. As with other Megaways slots, Twin Spin consists of 6 rows, with the maximum number of symbols appearing on each reel being 7, which translates to 42 symbols in total.
How to Play the Microgaming Casino Slot Twin Spin Megaways?
Though it might look like many other traditional slot games, Twin Spin Megaways Slot actually has a lot of cool features that separate it from the pack. A jackpot of up to 38,000x your stake is possible with up to 117,649 paylines. The game is ideal for both high rollers and budget slots players, as the minimum bet is 10 cents and the max is $200. The symbols are the standard ones you'll find on many slot machines. The lower value symbols include 9, 10, Jack, Queen, King, and Ace, and the higher winning symbols are bells, bars, cherries, diamonds, and lucky sevens.
You must match symbols on a minimum of three reels in a row beginning from the leftmost reel to win a payout. You'll find the paytable at the bottom of the game screen.
As with many other Megaways slots, this one offers an avalanche feature that is triggered after a win. The winning symbols disappear from the screen to be replaced with new ones, which could result in another win.
The twin spins feature that the game is named after happens randomly when two reels appear and synchronize with each other displaying identical symbols to increase your chances of winning.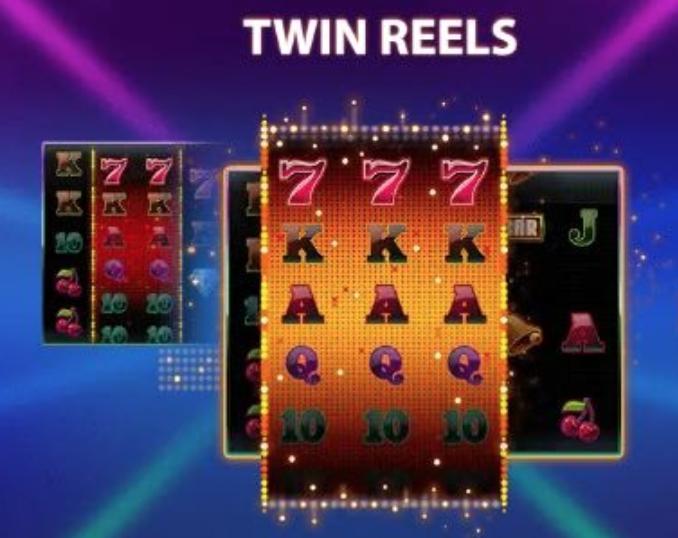 You can't miss the scatter symbol for this game, as it's actually named the Twin Spin Scatter. If you get five scatters showing at one time, this triggers the free spins bonus. You will get 15 free spins. Furthermore, each extra Twin Spin Scatter symbol that appears gives you an additional free spin. If the wild symbol lands on the reel on a free spin, it can either award a 2x or 3x win multiplier.
If you are new to slots, you might want to play the game in a free demo mode first rather than for real money. The best casinos offer online slots for free so that players can see if they enjoy the game first before investing their hard-earned cash.
How Do Slots Work? The Mechanics of How Slots Work in Casinos Today!
Before you take your seat at a machine or play for real money at an internet casino website, it's important to understand how they work.
Whether you play online slots or in a brick-and-mortar casino, the actual process of how slot machines work is mostly the same. The main difference is that in an online casino, slots are virtual games where you click a mouse or tap your mobile phone screen to spin the reels.
Today, most slot machines are based on a random number generator (RNG) that determines the outcome of each spin. The RNG uses mathematical formulae to generate pseudorandom numbers making it almost impossible for anyone to predict what will happen next. The result is used to determine which symbols will show up next by generating a random outcome. After the outcome has been generated, it's checked whether it corresponds to any winning combination according to the rule sets programmed into the game. If it does, one of these combinations pays out, and credits are added to your account.
Computers nowadays can calculate huge numbers very quickly, which means that even if there are hundreds or thousands of players betting at the same time, all with different amounts, it won't slow down the gameplay.
Conclusion: Top 5 Tips On How To Win At Slots Machines!
To conclude this guide, here are the top 5 tricks you can use to increase your chances of winning on Twin Spin Megaways Slot.
Understand the game - know what the symbols mean and how to place your bets.
Choose a reputable online casino - there are many scam casinos out there, so do your research before signing up.
Make a budget and stick to it - gambling should be fun, but don't let it get out of hand.
Play for free first - practice on the free demo game until you feel comfortable enough to start betting real money.
Stay calm and collected - if you start getting angry or frustrated, take a break from the game.
Related article: Twin Spin Megaways Online Slot - Strategies And How to Get the Most Out of It