Once upon a time, Celine Dion took up a residency at Planet Hollywood Resort & Casino in Las Vegas, and the media, fans, and her fellow artists announced that her career was over. Flash forward 16 years and residencies in Las Vegas are considered the crème de la crème of being a performer. Not only do they mean that you can command a crowd of around 5,000 guests per night, but they mean that you have the stamina, the set list, the pyrotechnics, and the showmanship to sustain night after night of performing to adoring fans. Elvis Presley made them famous back in the 1960s and 1970s with his record-setting 636 consecutive performances at the International and Las Vegas Hilton, but there have been many stellar casino performances since then. What are some of the most iconic?
A Brief History of Casino Performances
The first casino performance came in the form of Liberace's 1944 residency at the Riviera Hotel and Casino in Las Vegas. Hot on his heels after news of his $50,000 earnings a week came casino performances from Elvis Presley and Frank Sinatra and the Rat Pack. By the late 2010s performers from all genres – from Cardi B to Aerosmith, Drake to Calvin Harris – have performed sold-out iconic sets at casinos in Las Vegas. In 2017, ten per cent of Forbes Celebrity 100 had a residency in Vegas at some point. Many credit Celine Dion – who marked her 1000th performance in 2016 – as revolutionizing how casino performances were seen. Once a loss leader strategy to get guests to visit the hotel and casino, now performances at the casino are as much a reason to visit as the craps, blackjack, and roulette on offer. It's not just singers and performers who have had iconic performances at casinos – David Copperfield and Siegfried & Roy made a name for themselves entertaining on the Strip alongside the casino experience. Cirque du Soleil and The Blue Man Group have also packed out casinos with performances of their specialist brand of entertainment. Casino performances even stretch to full Broadway shows, such as the burlesque performance at the Borgata.
How Much Money Do Vegas Residencies Make?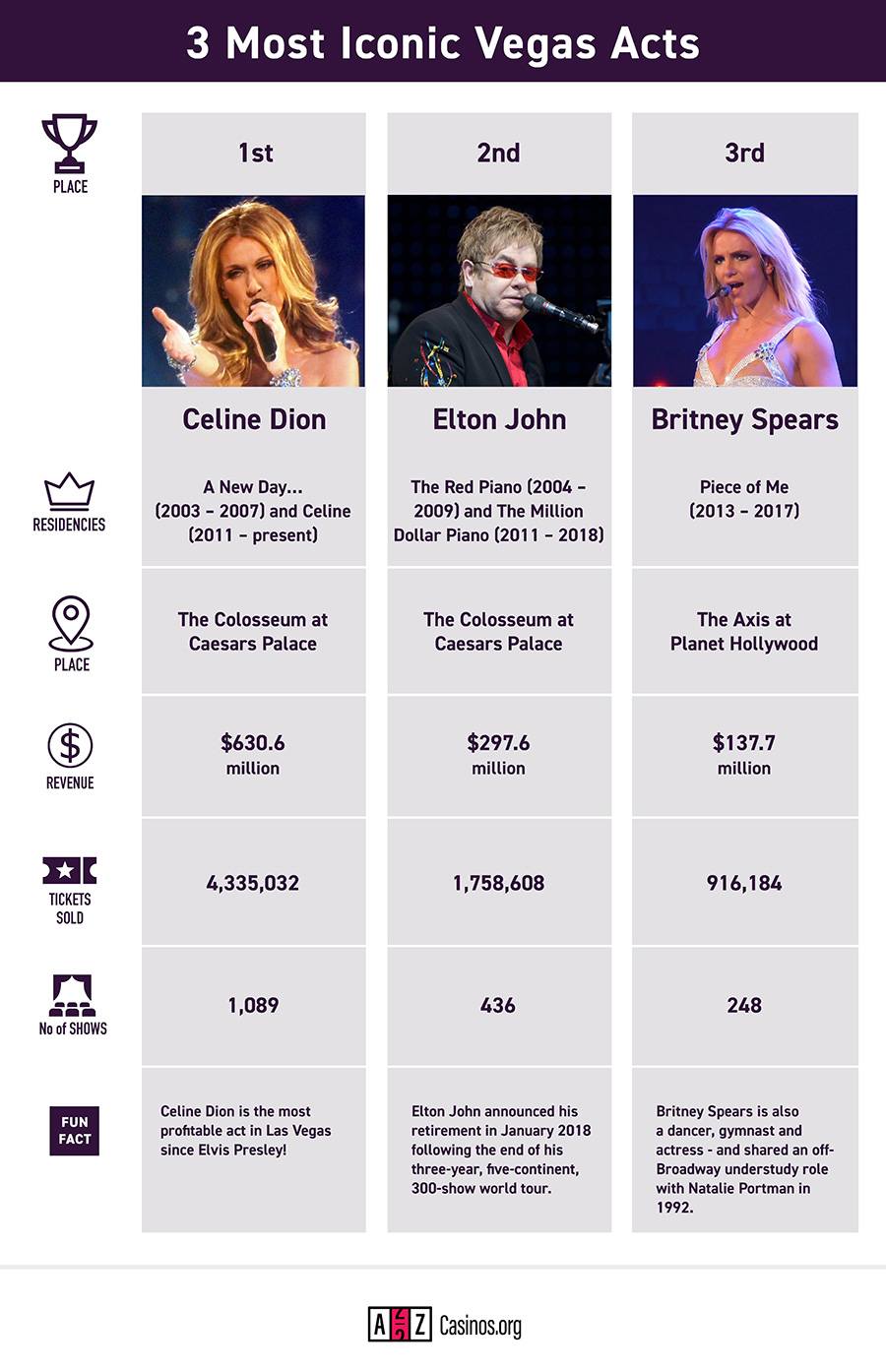 They may be iconic for fans, but do they make money? One of the most effective ways of measuring how successful a residency or casino performance has been is to look at the revenue generated. According to Billboard, the top two spots on the highest grossing residencies from the 1990s to 2018 belong to Celine Dion, the Canadian songstress who can silence a whole auditorium with a few bars of one of her many ballads. Dion's A New Day residency (2003 – 2007) at The Colosseum at Caesar's Palace grossed $385.1 million, selling 2,814,577 tickets and spanning 714 shows. Her present self-titled residency, running since 2011, has generated $245.5 million from 1,520,455 tickets across 375 shows. Elton John snags third place grossing $166.4 million between 2004 and 2009 and $131.2 million from 2011 to 2018, with Britney Spears' 2013-2017 residency bringing in $137.7 million, and J.Lo.'s 2016-2018 residency grossing $101.9 million. Icons Cher and Bette Midler both brought in just under $100 million from their respective 2008-2011 and 2008-2010 residencies, while Rod Stewart and George Strait both hit around the $50 million mark for their 2011-2018 and 2016-present tours. For the professional performers, with hit after hit, a Vegas residency can be fairly lucrative and gives fans a reason to visit Sin City just to see them.
How Much Do the Artists Cost at a Casino Performance?
Tickets might not be cheap and artists might have to work all hours to ensure the show goes off without a hitch, but the real cost is just how elaborate the entire event is. Light shows, fire, choreographed dance routines, and props are needed to give fans the experience they deserve, but how much does that actually cost? Well, firstly, the nightly cost of the star is creeping up. Most acts clear $500,000 per night per show, expecting a sold-out venue every night. The secondary effects of a star being at a casino resort isn't factored into the talent buy-out. In 2017 Lady Gaga charged $1 million a night, and a 50/50 merchandise split with the venue. For a sellout of the venue, this would equate to $200 a ticket. J.Lo. would charge $54-412 per ticket, depending on the night and position. Pollstar announced that a recent 3-night event for J.Lo. grossed $2.1 million with the venue at Axis Planet Hollywood being at 90% capacity. Following Britney's 2013 success with Piece of Me, her 2015 negotiating position reportedly commanded $35 million for the run. DJs and EDM stars are the most lucrative for the venue – charging around $400,000 but requiring very little in the way of setup. That's usually where the costs run high.
How Much Does It Cost to Stage a Casino Performance?
Tourists to Vegas are reportedly spending $60 billion, with visitors spending on average $827 per visit on casino games and other amenities. It seems a lot, but is it enough to put on the expensive Vegas casino performances? Artists aside, very few spend the time onstage alone, with many having dancers interacting with them to bring the performances to life. The average salary for a Vegas dancer is $50,000 per year, with this figure likely to be higher depending on the specialist skills needed per performer. A troupe of dancers will therefore set the event back by at least a hundred thousand dollars across the multiple shows. Some ballads require backing singers, which need to be paid around $36,000 per year, while band members could go for considerably more. Making the show itself costs a lot. For Coachella 2018, Cardi B revealed she spent $300,000 of her own money on making her set stand out. Scale this up for a Vegas residency for several nights and this could run into high figures. Pyrotechnics are literally money going up in smoke for many. According to a leading pyrotechnics company, a night of fire and sparks could cost from between $500 to $1,000 per minute, leading to shows costing between $7,000 and $20,000 for pyrotechnics alone.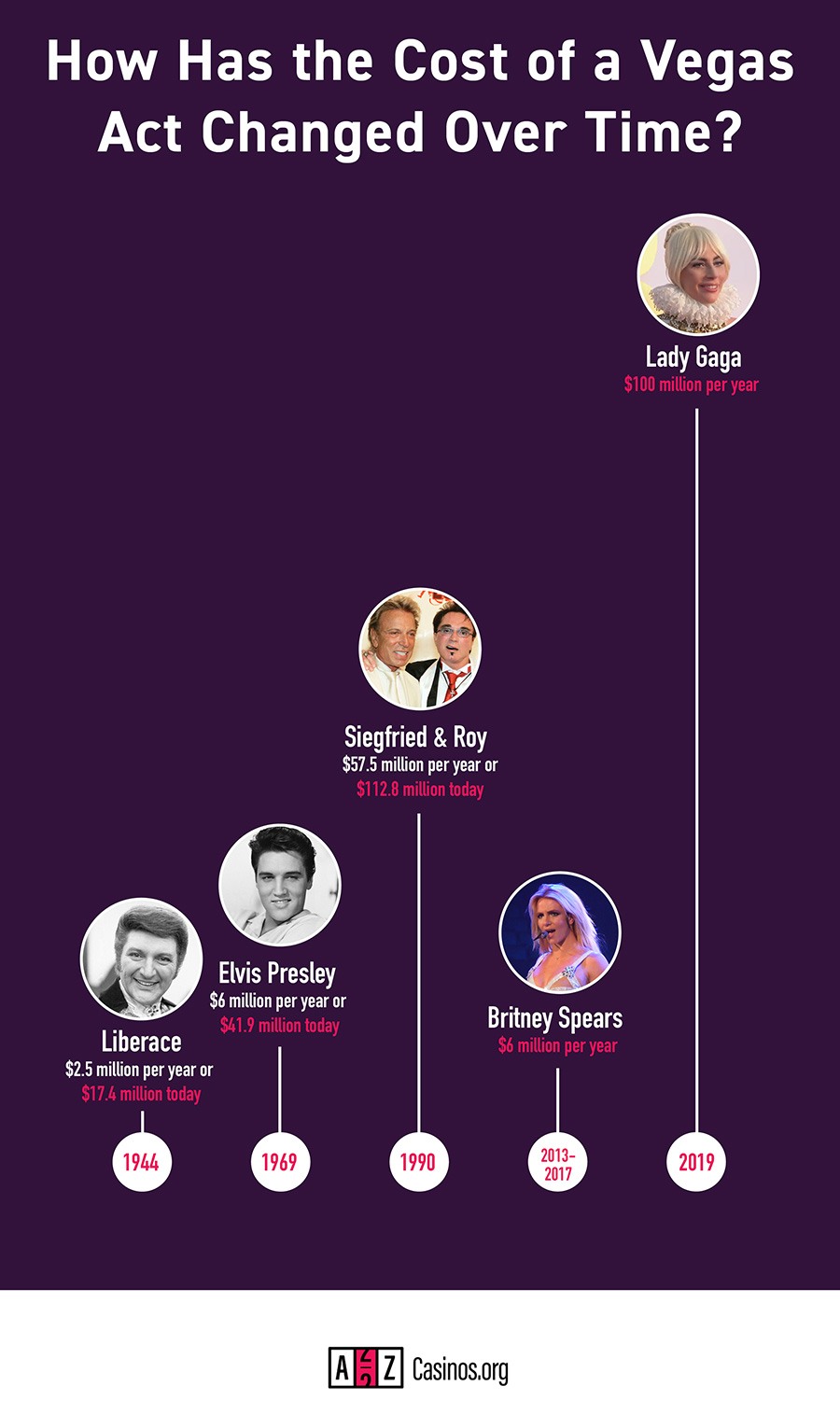 Are Residencies Loss Leaders?
The residency is often described as a loss leader – or at least was back in the day that residencies couldn't command as much of a crowd. The venue rarely makes money from the performance itself, but benefits from the guests staying at the hotel and spending money there. Looking at how much land-based casinos take could help discover whether residencies have been working in their favor. According to the American Gaming Association, Las Vegas casinos brought in $11.9 billion in 2018. Wynn Las Vegas brought in $1.7 billion in 2017, while The Venetian and Palazzo took in $1.6 billion, the Bellagio $1.36 billion, and Caesar's Palace $1.18 billion. So, while it may cost the venue a lot to host certain artists, the money that their fans are likely to spend keeps the casino in profit and builds its reputation among visitors, fans, and other artists.
The future of the land-based casino market looks promising: the current USA land-based revenue stands at $41.6 million, and is expected to increase. The global gaming yield stood at $115 billion in 2016 and $130 billion by the end of 2019 - with US gambling alone expected to reach $93 billion by the end of 2020. Gambling revenue in total brought in around $137.5 billion to the US economy in 2018, employing 730,000. But land-based casinos also have the competition from the growing online casino sector. In 2019, the online casino revenue stood at $306.5 million. Financial analysts expect this figure to rise tremendously. A Gallup poll found that only 3% of the 64% of frequent American gamblers played online. Yet, this figure is likely to continue to rise as the accessibility of online and mobile gambling increases, especially in the US, where regulations are being loosened.
How Sustainable is a Vegas Residency?
Vegas residencies and casino performances provide unique opportunities for artists. Whether it's Shania Twain, who was able to bring her horse on stage with her during her performance, or Donny and Marie Osmond who have kept their decades-long careers alive with lucrative performances. But how sustainable for their careers is a Vegas residency? Well, looking at the top five longest running residencies shows us that not only can a Vegas residency be lucrative, but that it can be reviving for careers that seem to have stalled on the surface. Donny and Marie top the charts with 2,557 performances, followed by Elton John with 1,864 shows and Barry Manilow with 1,771 shows rounding out the top three. All three acts began their careers more than 40 years ago and are able to sell out stellar performances to this day. This shows that not only does a Vegas residency sustain a prolific career, but it enables one to continue long after new music is being produced. All three acts have strong fanbases that grow with each generation and know how to target their market effectively to ensure their careers continue. The best way to succeed as a musician is to release music that resonates in the early part of your career and then use this music to bring a nostalgic factor in the twilight years. Could the same be said for some of the popular artists of today in 20 years when they might consider a Vegas residency?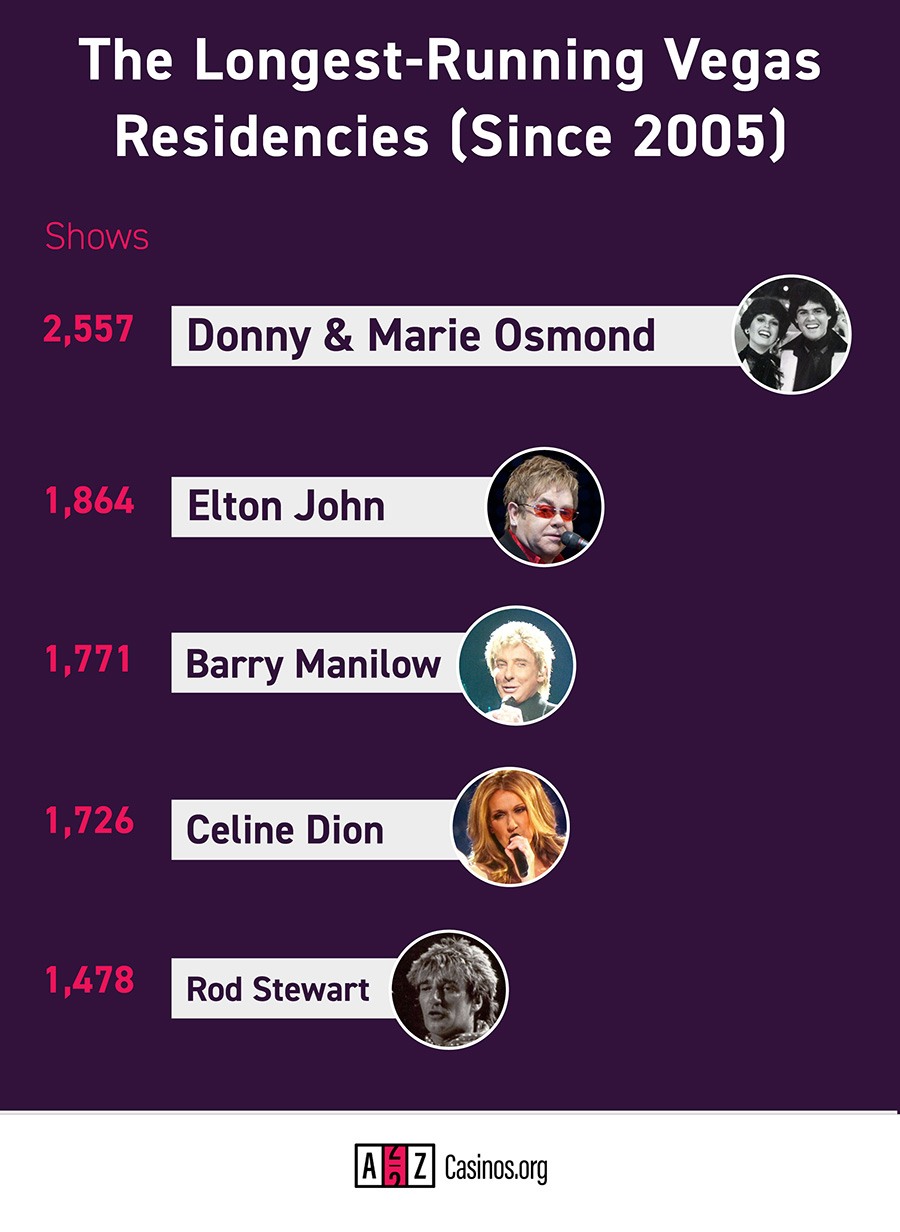 Casinos have become synonymous with performances and those who look forward to their favorite stars being announced at a residency expect to make a proper experience out of the event. Not only will people flock to the single show, they will take commemorative merchandise and often package a trip together to the resort and casino. Casino performances can bring in millions, yet can also cost millions in order to fully capture the essence of the star. The enduring power of residencies and casino performances shows just how lucrative they can be for the casino resort.