Hat-trick win for LeoVegas at the coveted 2018 EGR Nordics Awards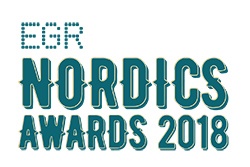 The most innovative and successful gaming companies get their recognition at the coveted EGR Nordic Awards. This year, LeoVegas managed to garb three awards despite steep competition. The categories in which it won the awards include Casino Operator of the Year, Sports Betting Operator of the Year and Nordics Operator of the Year.
The Group CEO Gustaf Hagman said, the triple wins are extremely delightful as well as important for the group. These wins definitely prove LeoVegas is among the top game operator in the Nordic region. The Nordics Operator of the Year award is especially important for the company. It is well deserved since LeoVegas has been striving hard to stand out amidst the rivals as the best online casino through innovation, high growth and delivery.
The company also launched www.LeoSafePlay.com – a portal to help players stay away from getting into unhealthy gambling behavior. This clearly indicates how serious the company is for encouraging responsible gaming.
The award for best Casino Operator of the Year shows LeoVegas's expertise in casino offering and achievements in last one year. The ground-breaking feature of in-game deposit is among its primary initiatives. It lets players make deposits while retaining their seats. LeoVegas has enhanced the live casino experience by Chambre Séparée- its own exclusive studio.
In the last few years, LeoVegas Sport has grown from strength to strength. LeoVegas Sport is now available in many markets. Even in this segment, LeoVegas has got praise for offering outstanding products and effective marketing.