Why Movie Directors Love Casino Scenes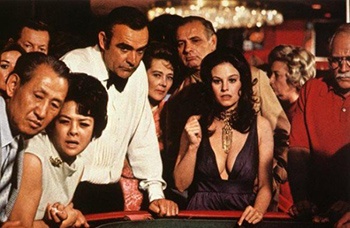 When thinking of a movie featuring a casino scene, James Bond instantly comes to mind. In fact, the iconic introduction "Bond, James Bond" was uttered for the first time in a casino setting at the beginning of Dr No. Since then 23 more Bond films were made, and we find the British Secret Agent at a casino in almost all of them, playing his game of choice, "Chemin-de-fer" (a variation of baccarat), whilst ordering his signature dry martini, you know the line...
Through the years, many other memorable casino scenes have graced the big screen, in movies like Casino (1995), Oceans 11 (2001), 21 (2008), and more recently, The Gambler (2014), to name but a few.
The physical act of gambling incites a range of different emotions; a person can go from elated highs to the depths of despair within the short space of time needed to deal the next hand, throw the next dice roll, or spin the roulette wheel. And these emotions are not only limited to the player, but is felt in varying degrees by everyone in the room. A casino ambiance alone can be an assault on one's senses, as so poignantly depicted in the 1988 film, Rainman, when Dustin Hoffman's character is completely overwhelmed by the noises, bright lights and bustle of a Vegas casino.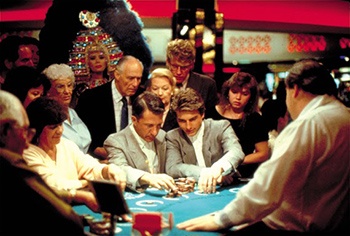 It therefore makes sense that a movie director would favor a setting that provides such a wide moodscape within a single frame. It also works across the different genres, for example explosive action from the Oceans 11 franchise, side-splitting comedy from the likes of Austin Powers: International Man of Mystery (1997), and The Hangover (2009), or heart-racing thrillers The Sting (1973), and Run Lola Run (1998).
Interestingly, the inverse of the movie-casino combination also seems to be a hit, as many well-known movie titles have made a transition into casino games, particularly video slots. Examples include A Nightmare on Elm Street, Casino Royal, Forrest Gump and Ghost Busters. The epic saga, Lord of the Rings, was also a very popular online slot until it was discontinued. These kinds of slots typically feature inserts of movie clips, movie theme soundtracks and cinematic audio-visual quality. The small-screen fantasy saga, A Game of Thrones, is the latest adaption to join the ranks, and is already proving to be equally riveting as a slot game.