While a casino gambling method of play, skillful strategy and knowledge of the game are mandatory when playing casino games online and off, there is another factor.
To many players, the luck factor is sure to appear toting a bunch of cash once the unique beliefs, rituals, charms and superstitions are applied.
Generally, this calls for a knock on wood, crossing fingers, blowing on a craps dice, picking favorite numbers or raising your voice to will the next card in play.
Also, the majority of the believers would not leave home, park in front of computer or lift a mobile device to play without a photo or lucky charm nearby.
Usually these lucky photos are of a person or group; however, cats, dogs, rabbits, birds and others belonging to the animal kingdom qualify.
As for lucky charms, a four-leaf clover is a top choice while others in this category are horseshoes, piggies, elephants and yes, even black cats who can magically become a good thing.
Amulets on neck chains or bracelets qualify with items from nature like bear, alligator or shark teeth. As for specific casino games, here's where rituals reign and the game of poker leads the way.
Poker
Red is a good luck color choice. Blow gently on the cards with a good luck 'breeze'.
Avoid crossing your legs or you will surely 'cross out your luck'. Speaking of feet, it is wise not to allow other players to rest their feet on your 'lucky' chair.
Toss that four of clubs far away or bad luck is sure to ensue.
Don't let the dog in the same room where there is poker action.
All cards must be dealt and only then do you pick up you hand using only the right hand.
The rich and famous veteran poker stars bring these gambling superstitions to the table.
Doyle Brunson's mini black rock charm is named "Casper" recognized as the friendly ghost.
Then there is Johnny Chan and a 'fruit called Orange'. Winner in 1988, Chan brought an orange along for good luck and to clear his nostrils of the smoke in the casino. Now you can't 'peel it away' from him.
Slots and Video Poker
With slot games, the newer arrivals on the casino floor or online are a good bet.
Slots players' rituals range from gently caressing the glass, tapping it, pounding the play buttons to having a little one-on-one chat encouraging a better performance.
The belief is that the better payouts at land-based casinos are slot machines at the end of the aisle. The slant-top versions are more comfortable for neck and back relief.
Video poker is one of my favorite games with slots in the mix whether playing online of off.
The ritual begins with my lucky jeans matched by a lucky black shirt. I prefer Tuesdays to Thursdays. I have my pick of Video Poker machines during the wee hours of 1- 6AM and the quiet in the casino is the precise atmosphere to study and play the correct strategy.
Bingo
For many players, the game of bingo played online or off involves one or more lucky numbers, lucky clothing, lucky seat, lucky dauber colors and/or lucky numbers.
It is bad luck to leave money on the table at which time you should circle your chair three times to ward off the bad luck.
Roulette
It is all about the numbers with the game of roulette. Lucky numbers can relate to birth dates, addresses, ages, telephone numbers that are yours or belong to special people in your life. Grouping these lucky numbers together and betting consistently is a good strategy rather than 'betting all over the table'
Perhaps a certain number or black/red bet has been ignored by the pill, otherwise known as the bouncing white ball and it's time to make a 'sleeping number' wager.
Don't forget your charm, photo, clothing or jewelry to attract Lady Luck.
While dressing in red or black may help your game, a single zero table is the better bet.
Whatever you believe, I wish you Good Luck at your next casino adventure. Play On!
Get a 200% match deposit bonus
Launched in 2017 and licensed in Curacao
Good selection of deposit methods, incl. Bitcoin
$8,888 Welcome Bonus
Newly launched in 2017
Licensed in Curacao
179+ games to keep you entertained
Article by

Gayle Mitchell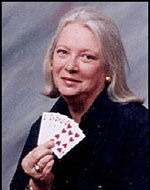 Gayle Mitchell is the leading female expert on casino gambling. Gayle is the author of seven books, 12 Ebooks, and five Tips booklets. She combines easy-to-understand strategies, wager management and an amusing flair in her articles/columns, newsletters and seminars. Online since 1999, Mitchell has owned and operated 4 gaming websites.Her writing and teaching style is targeted at educating novice and passionate casino players.