Slots have been very popular in the gambling world for ages - first, there were only physical slot machines available in brick-and-mortar casinos. And while those are still used nowadays, there's also a very convenient alternative - online slots. You can just create an account on an online casino website or app, make a deposit and start placing your bets without even going out.
Some of the most commonly played online slot games are those from the Quick Hit franchise. They are amazingly simple and straightforward, and at the same time enjoyable and beneficial.
Hearing that name often among gamblers on the internet, you may wonder - what is Quick Hit Super Wild Wheel Red? Here we will tell you more about one of the best instalments in this game series, and how to win at it. Enjoy!
Quick Hit Super Wild Wheel Red Game Introduction
Quick Hit Super Wild Wheel Red was released by Bally Technologies in November 2018. Similar to other games from the series, it refers to classical slot machines with its symbols being fruit, red 7s, bells, and bars.
Interestingly, apart from the standard 5x3 reels, in these slots there is a characteristic moving wheel at the top, expanding the game area. You can activate as many as 30 paylines, and raise your winnings with bonus symbols, Quick Hit symbols, free spins, multipliers and wilds. The maximum RTP here reaches 95.97%.
How to Play Quick Hit Super Wild Wheel Red?
The main game in Quick Hit Super Wild Wheel Red is quite simple. You can choose which paylines you activate out of the total 30. There is a feature fee associated with every spin, starting at 10 cents and growing with the total bet.
As usual, the paylines need to form winning combinations from left to right, and a scatter payout is only possible on the Quick Hit spaces. What's more, you can activate the so-called Wild Red space which serves as a typical wild in the main game, meaning that it can replace any symbol to help you win (except the bonus wheel spaces and the Quick Hit).
However, the question is - how to win at Quick Hit Super Wild Wheel Red? You'll find some information on the best moves in QHSWWR below!
Quick Hit Super Wild Wheel Red Tips & Strategies
Now that you have found the answer to the question "how does Quick Hit work?", it's time to learn more about some recommended QHSWWR strategies! Our advice would be to try to activate the bonus features as often as possible to raise your chances of winning big.
In these slots, the Super Wheel is very important and it allows you to play many additional games. To activate it, you need a bonus symbol to land on the second, third and fourth reels in the same spin, so the best strategy for Quick Hit Super Wild Wheel Red is to always activate enough paylines for that to happen. And that's just the start of the bonus round! As you spin the wheel, you will find out which mini-game will be activated. Each of them has its own rules.
Free Games Feature
If the Super Wheel activates this feature, you will get from 8 to 20 free games, depending on where the inner wheel stops. In those games, the inner wheel remains active and provides you with a 2x, 3x or even 5x multiplier on any winnings you manage to get. However, keep in mind that you can't trigger the Super Wheel again when you play for free.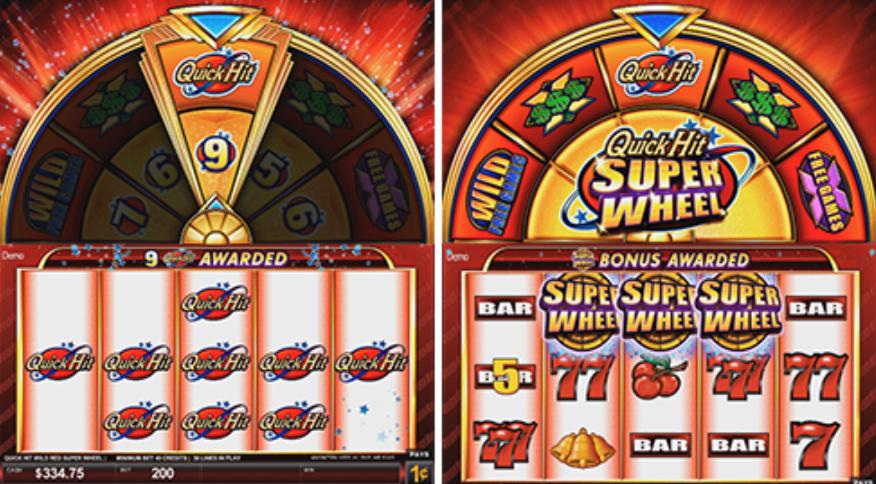 Quick Hit Instant Feature
In Quick Hit Super Wild Wheel Red, you can receive two instant bonus rounds which can give you a quick shot at the big jackpot. When you hit the Quick Hit space, you will open the inner wheel and will be able to get another spin. It will stop at a number from five to nine and award the matching Quick Hit jackpot.
Moreover, the instant multiplier bonus space will activate the inner wheel to get a second spin determining a multiplier between 3x and 25x. When it's chosen, the bonus symbols on the reels change into wild spaces and you get the payouts from the new multiplied winnings.
Wild Free Games Feature
Similar to the regular free games feature, this one activates the inner wheel spins, providing you with 8-20 free games. However, instead of a multiplier, this version has a special twist involving the Wild Red symbols.
The beginning of a free spin round will entail no wild spaces on the reels, and with each spin, the inner wheel will be activated to determine how many Wild Red spaces will be added: 5, 10, 15 or 20. They are added to the general reels and they remain present for the whole free games round. It's always a good strategy for playing Quick Hit games because the more wilds there are, the higher the chances of a really significant payout at the end.
The Final Note
Overall, Quick Hit Super Wild Wheel Red is a very exciting game, making it possible for you to win big. These online slots have quite many interesting features that involve its most distinctive element - the Super Wild Wheel from the title.
It wonderfully combines traditional slot machines with its classic symbols and innovative gameplay. You won't be bored playing this online casino game for sure, so it's worth giving it a shot!
If you enjoyed reading this feature on Quick Hit Super Wild Wheel Red you can also discover our review of the game here.
Guides Similar to this Topic