Pay Schedule: Jokers Wild Video Poker 7/5
Hand: Pair: Kings or Better - Max Coin Return: 5 Coins
Hand: 2 pair (2PR) - Max Coin Return: 5 Coins
Hand: Three-of-a-kind (3/kind) - Max Coin Return: 10 Coins
Hand: Straight (ST) - Max Coin Return: 15 Coins
Hand: Flush (FL)=5 - Max Coin Return: 25 Coins
Hand: Full house (FH)=7 - Max Coin Return: 35 Coins
Hand: 4-of-a-kind (quad) - Max Coin Return: 85 Coins
Hand: Straight Flush (SF) - Max Coin Return: 250 Coins
Hand: Wild Royal w/Joker - Max Coin Return: 500 Coins
Hand: Five-of-a-kind - Max Coin Return: 1000 Coins
Hand: Royal Flush (no Joker) - Max Coin Return: 5000 Coins
Note!
the best version offers 100 coins for 4-of-a-kind while 80 coins reduces the overall payout %. The strategies remain the same regardless of 80 or 100 coins. For real money wins, play maximum coin for each hand.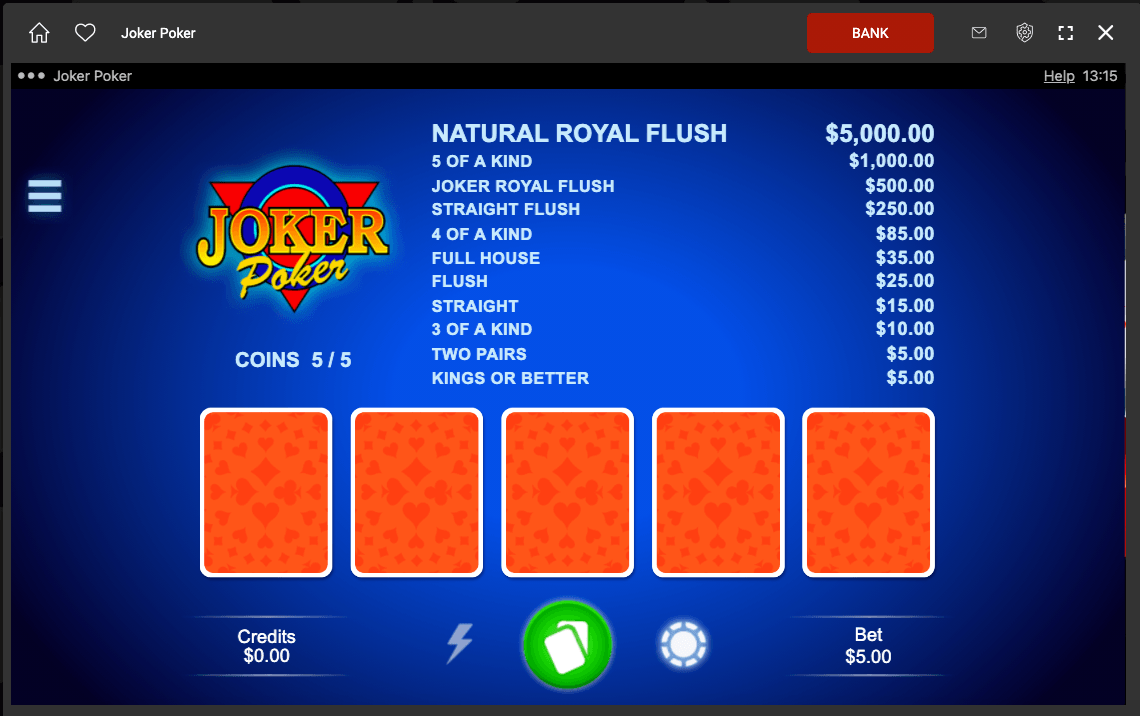 Strategy and Tips: With Joker
With Joker
Hold dealt hands of full house or higher
Toss a paying flush for a 4-card royal or 4-card open straight flush
Toss 3-of-a-kind for any 4-card straight flush
Toss a pair of aces or kings towards a 3-card or higher sequential straight flush or a 4-card flush
If none of the above, choose an in-between card that is neither high nor low to keep with the joker. Example: 6-10
Without any of the above, hold the Joker alone and receive 4 new cards
Without Joker
Hold two pair or higher
Hold A-K of same suit
Hold face cards in the same suit. Examples: K-Q, K-J, K-10, Q-J, Q-10, or J-10
Hold a 4-card straight or a 3-card straight flush if consecutive, discarding a small pair for the larger payout
Toss a flush for any 4-card royal draw
Toss a straight for any 4-card straight flush or royal draw
Discard a pair of aces or kings for 3-card royal draw
Discard a low pair for 4-card flush or possible 3-card straight flush
Toss a pair for a 4-card straight flush
Fast Facts
Approximately 10% of original cards dealt will display a joker, so adjust your strategy accordingly.
Video Poker software online is provided by the following creative companies: Cryptologic, Microgaming, PlayTech, Real Time Gaming (RTG), Rival Gaming and Vegas Technology.
Use these strategies and tips to rise to Royal Class.