MGA Games Hyperrealism series of casino slots is taking us back to the 1980s glamour. Samantha Fox, a glamour model from the 80s, makes an appearance in the scene of casino slots thanks to MGA Games.
MGA Games is well-known for its work on the development of online casino premium productions. It has decided that the international star, Sam Fox, would appear in its Hyperrealism series. The slot machines are quite popular for the choice of the characters depicted and its graphics quality with photoreal images.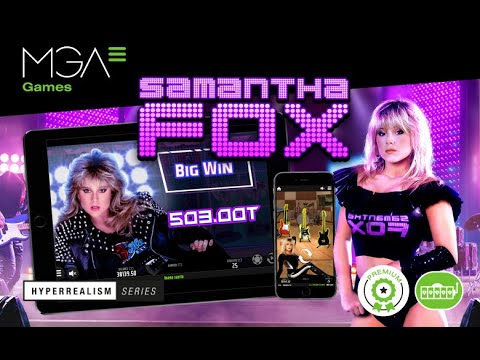 Such was the popularity of Sam Fox in the 80s that many people from that era still remember her. There is hardly any other celebrity from Britain that is as famous as Sam Fox (except the Beatles, of course). Her song, Touch Me, managed to bring her to the number one spot in the US and the UK and 15 other countries. She managed to get 24 platinum, gold, and silver records during her time.
In Latin America, she managed to achieve a record figure in concert ticket sales. She performed in front of over a million fans within a year. At the moment, Samantha Fox appears in some shows around the world.
It is hard to ignore her appearance in the world of online slot machines, and the latest project from MGA Games is a tribute to this famous singer. The slot machine includes four mini-games based on Samantha Fox, and they show events such as the photoshoots, recording studio events, concerts, and autograph signings. And the five reels remind the players about the personal objects of Samantha Fox, such as leather jackets, record players, and cassettes. The dynamic and immersive experience provided by the game would keep players hooked on for quite some time and provide lots of enjoyment.
The wild figures play an important role as they act as wildcards and substitute all others (excluding Scatters and Bonuses). In addition to this, all prized spins with Free spins offer a two times multiplier.
This game features 243 combinations for prizes and reels altogether. These combinations ensure that the players are given a perfect trip to the 80s. The total prize offered by the slot is 27000 Euros, and the bet limit is between 0.25 Euros and 25 Euros.
The new slot machines featuring Samantha Fox are available in the markets starting 25th May.