Take a journey with us around the globe where genius creativity (or pure boredom) has given birth to some unique unusual gambling locations. Spoiler alert: None of these are found in Vegas!
1. Casinò di Venezia (Casino of Venice), Italy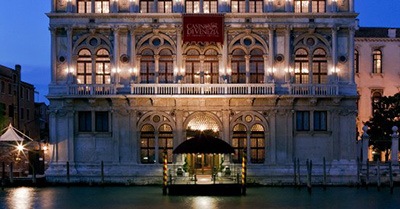 When planning your dream trip to Venice, you instinctively conjure up romantic images of lazy excursions in a gondola while being serenaded, down one of the many canals on the Adriatic lagoon that connects the more than 100 small islands in northern Italy. If you're a gambling fan however, you will also know that the "floating city" is home to the oldest casino in Europe – dating back as far as the 1600s. Situated on the Grand Canal in a magnificent palace (yes, an actual palace), called Ca' Vendramin Calergi, is the Casinò di Venezia. According to history, the casino ties its origin to the annual Venice Carnival – and to celebrate, Casinò di Venezia – Ca' Vendramin Calgary, hosts the World Poker Tour at the casino during the carnival each year. But that isn't the only tournament the casino hosts – there's also the annual Italian Chemin de Fer Championships and a variety of one-night tournaments such as Punto Banco 2000 Touch Tournament, blackjack tournaments, and baccarat tournaments. In addition, the 15,000 square feet casino also houses over 600 slot machines.
2. Desert Cave Hotel, Australia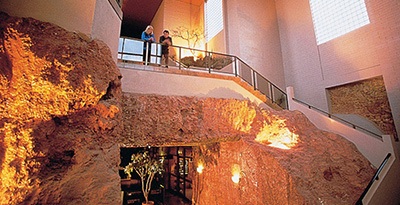 Introducing Coober Pedy, a small town in South Australia, just north of Adelaide. For over a hundred years hopeful miners have flocked here in search of finding opals – a valuable stone that emits different colours when shown in light. The largest of its kind was discovered in 1956 weighing 17,000 karats and is valued at a whopping $2.5 million. Aside from the opal attraction, Cooper Pedy has also evolved into a unique tourist destination thanks to its interesting construction. Over the years many residents have turned abandoned mines into homes to escape the summer heat and achieve natural temperature control. Eventually this led to more elaborate underground structures like the Desert Cave Hotel and casino that was completed in 1988. The hotel is built above and below ground, so guests can choose where they would like to sleep. Underground facilities include 19 rooms, restaurants, bars, as spa and shopping mall. It is also here that you will discover the underground Crystal Café, location of the Underground Gaming Room where you can play "pokies" or other casino games.
3. "Chapel casino", Antarctica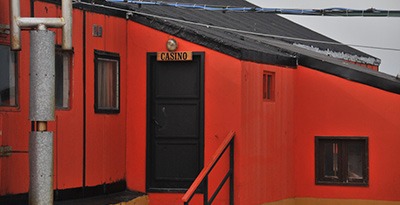 Antarctica. A frozen, isolated landmass that doesn't see much action, barring seals and penguins. But such a presumption is far from true. At any given moment you can expect to find between 1,000 and 5,000 people on this southernmost continent. And just who are these people? Not locals or tourists, but researches – from all over the world – who have come to take up residency in the icy landscape for months at a time, some on their own, and some with family in tow. Which begs the next question. What do they do to occupy themselves when not working? Answer: they build things for various purposes – there are dining halls, community centres, multi-use buildings, and churches. The last mentioned is of particular interest to this article as the researchers of the Esperanza Base (controlled by a strong Roman Catholic Argentina) added a nice little back room to their chapel – you guessed it; the only casino on Antarctica! Don't expect anything too sophisticated here – word is (no photographic evidence) the door marked by an overhanging "casino" sign takes you to a room filled with a few makeshift card tables and some store-bought coverings for craps and blackjacks. But that keeps the researchers well entertained throughout the cold nights – oh, and not to mention they play for real money too!
4. North Cadbury Court Basement casino, England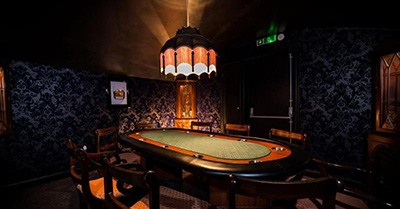 North Cadbury Court – located 40 miles north of the English Channel in North Cadbury – is a 16th-century Elizabethan mansion constructed from the remains of a 12th-century medieval meeting hall. It has 21 luxury bedrooms yet interestingly is used as an event venue and not a hotel. The property is known for hosting many a wedding, business event and reunions – all at hefty prices. While the venue itself is breath-taking, what makes it onto our list is its highly unique features – most of which are contained in the basement. Aside from a disco – equipped complete with lighting, mixing desk and a smoke machine, is the basement casino. Note that this is a full casino, there are poker tables, a roulette table, and a blackjack table. It also has its own full-time croupier! What you won't find here are electronic games or slot machines as this casino is essentially used for private gaming purposes.
5. Resorts World Genting, Malaysia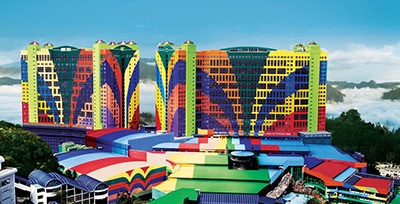 Imagine a resort on top of a majestic mountain bordering a 150-million-year-old rain forest comprising of 6 hotels (with casinos), shopping centres and a theme park. Well that's exactly what is in store for you at the peak of Mount Ulu Kali in Malaysia. Aside from boasting all those amenities set against stunning views, the most fascinating aspect of the Resorts World Genting is the multicoloured First World Hotel – its design stretching all around the lake. Here you will find the 200,000 square foot casino, with hundreds of games to choose from. There are over 3000 slot and video poker machines, a wide selection of electronic table games as well as almost 500 tables to play just about any classic casino game you can think of, including Blackjack, Roulette, Baccarat, Pontoon and Texas Hold'em.