2020.10.07
How Likely Are You to Find Your Happily Ever After in Las Vegas?
The old saying goes that what happens in Vegas stays in Vegas. However, while that might apply to wild nights out and other debauched activity, it does not seem to count when it comes to affairs of the heart.
A huge number of people have chased dreams of lifelong wedded bliss in Sin City, with some couples making careful preparations for their marriage, and others simply choosing to take the leap on the spur of the moment. But where did Las Vegas's long association with marriage come from, and are relationships forged in the city truly built to last?
Join us as we take a walk down the aisle to explore some key facts around Las Vegas and the incredible reputation that it has developed for all things marriage and wedding-related.
What Led to Las Vegas's Reputation for Weddings?
First up, it is worth examining just how Las Vegas came to be so synonymous with marriage – and the story begins back in the 1930s. At the start of the decade, a law was passed in Nevada which gave couples an opportunity to get married without them having to face either any wait or significant requirements.
Such developments made the city a go-to destination for weddings, and it continues to hold that reputation to this day. One other element which has helped it along is the relatively low cost of securing a marriage license, as couples are able to pick one up from the Clark County Marriage License Bureau for a fee of just $77.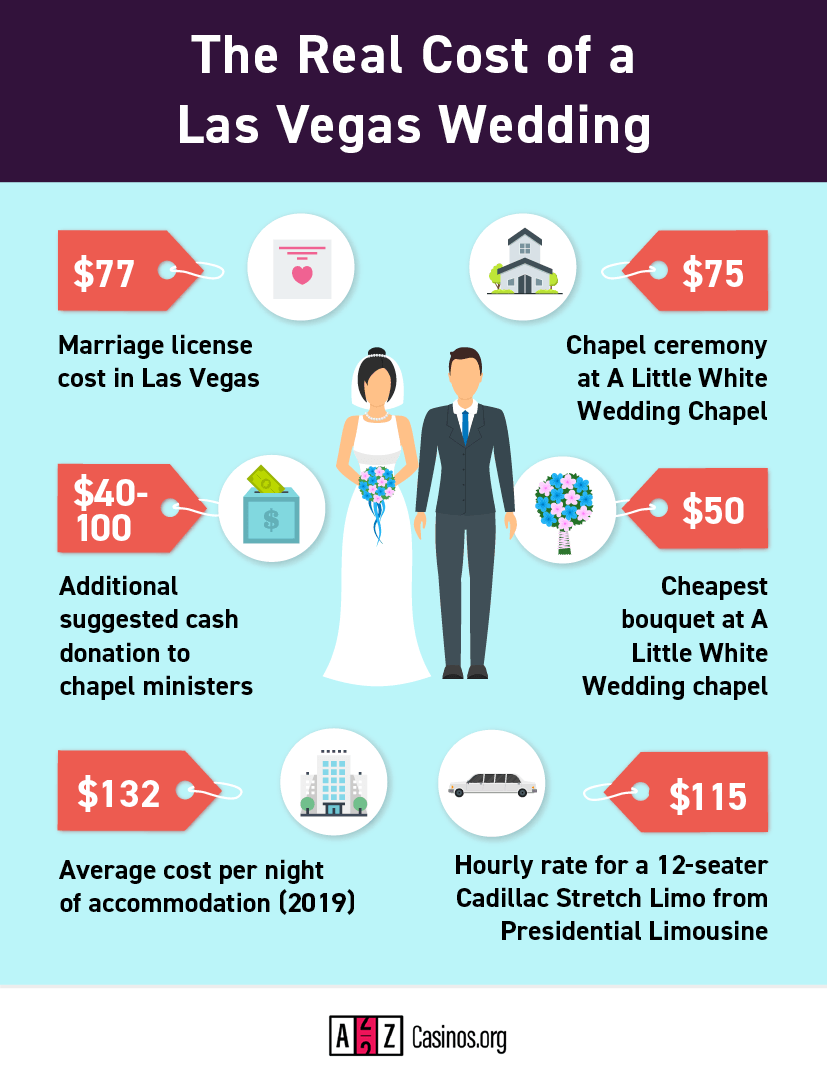 How Many People Get Married in Las Vegas?
Considering the ease with which people can make moves towards tying the knot in the city, it will probably not be a major surprise to discover that a huge number of people head to Las Vegas for marriage year after year.
Huge figures
Several sources online estimate that more than 100,000 weddings take place in the city annually, with this putting it well ahead of many other locations across the globe. As a comparison, the Office for National Statistics figures suggests there were around 242,000 marriages in the whole of England and Wales in 2017.
That clearly demonstrates how the bright light city of Vegas means business when it comes to helping couples formalise their relationships.
The big day
But when it comes to choosing a date for their nuptials in Vegas, which days are people opting for? Of course, the relatively straightforward approach to marriage in the city means that ceremonies can take place on most days.
However, it is also known that Valentine's Day on February 14th can be a particularly busy time for tying the knot in the city. The Las Vegas Sun reported last February on how the Clark County Marriage License Bureau had actually taken the step of setting up a temporary office at McCarran International Airport around that time in order to sell licenses to those visiting the city to get married.
Other dates which are regarded as popular for a Vegas wedding include New Year's Eve, with some couples seemingly looking to start a new year in style by getting hitched.
Famous Vegas marriages
If you did decide to head to Vegas to tie the knot, you would be following in the footsteps of some pretty famous names. Many celebrities have taken the step through the decades, with a couple of high-profile marriages taking place in the last couple of years.
Stranger Things actor David Harbour married Lily Allen in the city earlier this year, while Game of Thrones actress Sophie Turner tied the knot with Joe Jonas there as well. A number of other stars have taken the step too, including the likes of Angelina Jolie and Billy Bob Thornton, Bruce Willis and Demi Moore, and Frank Sinatra and Mia Farrow. Britney Spears also famously got married to Jason Alexander in Vegas back in 2004, with the union being annulled after just 55 hours.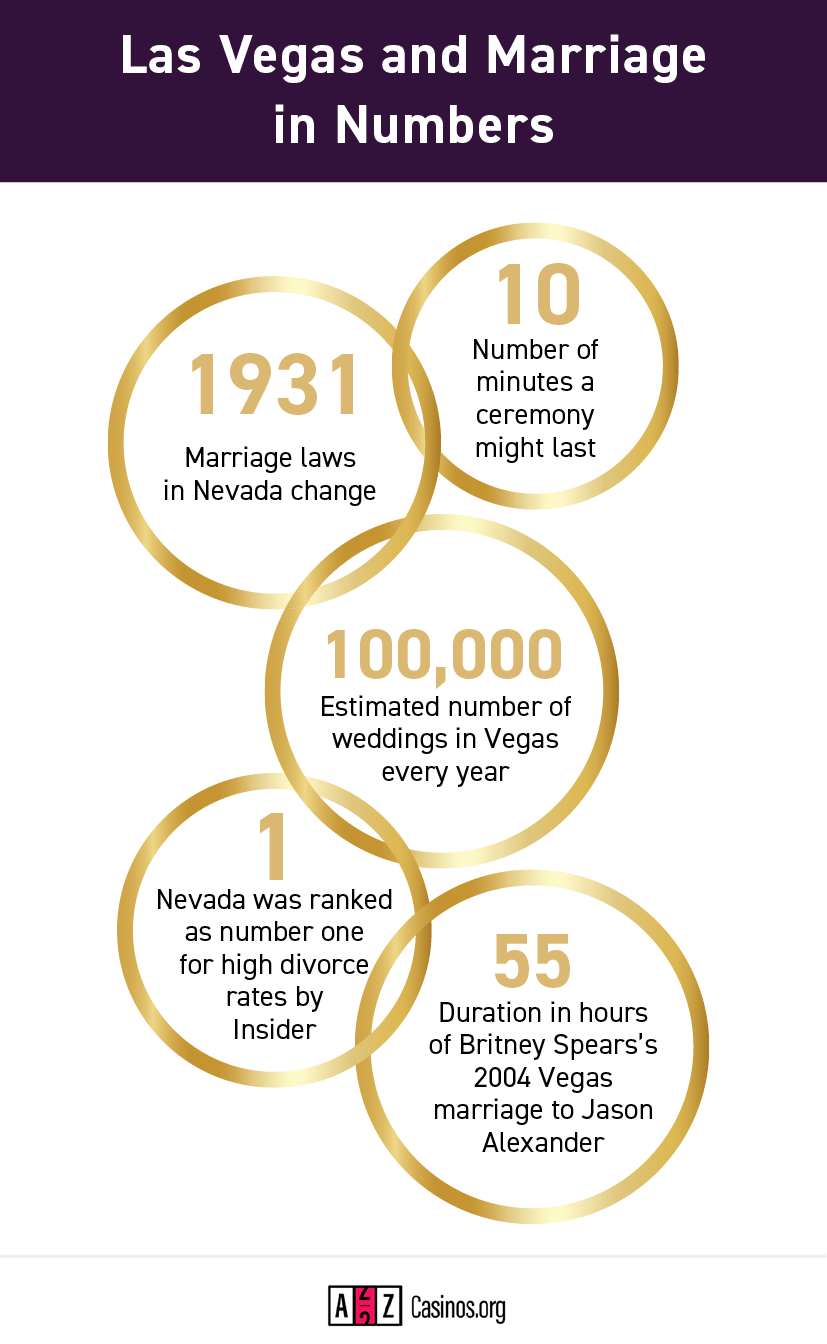 Is a Marriage Made in Vegas Built to Last?
The short duration of Britney's marriage in the city is perhaps a reminder that long-term wedded bliss is not always guaranteed when couples head to a chapel and say their vows in Las Vegas. The location might be the Marriage Capital of the World, but it has a strong reputation for doomed relationships too.
Back in 2010, a survey by Men's Health magazine listed Las Vegas second on a list that ranked cities by the likelihood of marriages ending in divorce. The findings were based on a range of factors, including the divorce laws in specific regions and the number of relationship therapists operating in the areas.
More recently, Insider used data from its in-house team and the CDC to rank 25 states on their divorce rates. Nevada was ranked number one, with the site suggesting that the state has a divorce rate of 4.5 per 1,000 people. Oklahoma and Wyoming completed the top three.
Of course, it would be unfair to suggest that a wedding in Vegas is doomed to fail. Many couples who have got married in the city will certainly still be together and there are some famous examples of that. To mention just one, Jon Bon Jovi married Dorothea Hurley in Vegas back in 1989 and the couple are still going strong. The moral of the story? Vegas might get a bad rep for divorce, but a marriage made in the city might have real staying power.
Saying 'I Do' in Sin City: What Does a Typical Las Vegas Wedding Look Like?
While Las Vegas marriages might have varying degrees of success, the ceremonies themselves can also come in many different shapes and sizes. That means answering the question as to what a typical wedding in the city looks like is not necessarily easy.
However, we have still taken it upon ourselves to give you some pointers on what you might expect when tying the knot in the city.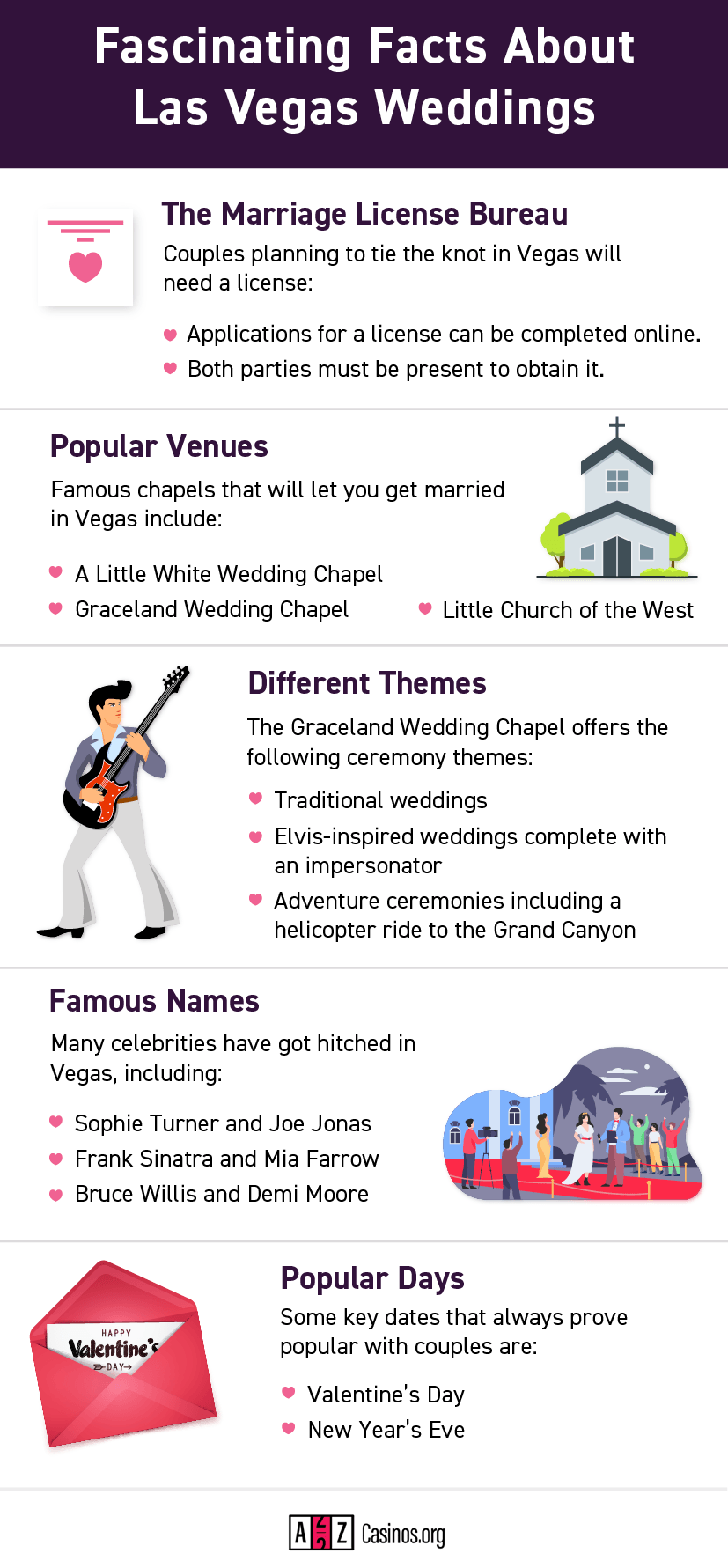 Going to the chapel
The classic idea of a Las Vegas wedding revolves around visiting one of the city's famous chapels. The likes of the Little White Wedding Chapel and Graceland Wedding Chapel are among the popular locations where people choose to tie the knot. In some cases, they do not even have to step inside, as some sites offer drive-thru weddings.
Love me tender
A great theme can make a Las Vegas wedding one to remember. The Graceland Wedding Chapel's website outlines how it offers traditional ceremonies alongside more adventurous experiences, including the chance to get married near the Grand Canyon.
However, the classic Las Vegas themed wedding should almost certainly include an Elvis impersonator. They might oversee the service, walk the bride down the aisle, or simply sing a few classic hits to help get the celebrations started.
The price of love
In terms of costs, we have already touched upon how the key document when getting married in Las Vegas is the marriage license. This can be obtained for a fee of just $77, but there are other costs you will need to consider too.
Different locations offer a range of packages depending on the type of ceremony you want, with a chapel-based ceremony at A Little White Wedding Chapel being $75. You may also have to factor in a donation to pay the minister, as well as the price of flowers and photography too. Finally, if you want to arrive and leave in style, you might want to also look into the price of hiring a limousine to take you from your hotel to the chapel of your choice.
Time for love
The package you choose for your Vegas wedding may well have a big bearing on just how long the ceremony itself lasts. However, if you want to get things signed, sealed, and delivered pretty quickly, you should be able to achieve that.
According to The Little Vegas Chapel, wedding ceremonies only usually last, on average, for up to ten minutes, so there is no reason why you cannot get a ring on it and get celebrating in super-quick time. Saying that, you should keep in mind that there are other elements you may want to spend some time on, such as getting the perfect pictures taken so you can look back fondly on your incredible day. The same site estimates that couples like to spend around half an hour on ensuring they have captured some great shots.
Tie the Knot in the Marriage Capital of the World
Las Vegas is renowned for its bright lights, incredible casinos, and first-class entertainment, but it is equally famous for its links to love. As we have outlined, the city remains an absolute hotspot for exciting and memorable weddings, even though they do not always come with a guarantee of life-long happiness and marital bliss.
Nevertheless, that is not likely to stop a huge number of people from flocking to Las Vegas to tie the knot. The city offers its own unique and vibrant take on an old-school tradition and few would bet against it remaining the Marriage Capital of the World for many years to come.