Microgaming's Mega Moolah progressive jackpot is the stuff of dreams for many slot enthusiasts as it pays out the richest prizes in the history of iGaming.
The world was recently reminded of its potent potential when a lucky player recently claimed a huge $10.6 million jackpot prize.
Life-changing
While this latest jackpot is nowhere near the biggest one ever paid out by the progressive network, it is a highly impressive amount that has altered the life of the winner beyond imagination.
The largest jackpot ever paid out by Mega Moolah is close to double this prize and currently holds the world record for the largest-ever online jackpot in history.
This momentous amount was a staggering €19.4million and went to a player in Belgium with arguably some of the best luck in the world. A cascade of big winners has followed in the wake of this event, but none have come close to equalling the prize.
Size Doesn't Matter
The enduring allure and popularity of Mega Moolah titles can be largely attributed to the easy point of entry. Even the absolute minimum bet size puts you in the running to win one of the four progressive jackpots.
That being said, it is a published fact that increasing your bet size can better your chances of triggering the jackpot feature, but history has proven that the smallest of bets can win the largest of prizes.
The jackpot bonus round is triggered randomly at the end of any spin and will generate a bonus wheel that spins to award you your winnings when it lands on a specific segment. The jackpot is progressive which means that every paid spin on the network increases its value, which you can see growing as you play.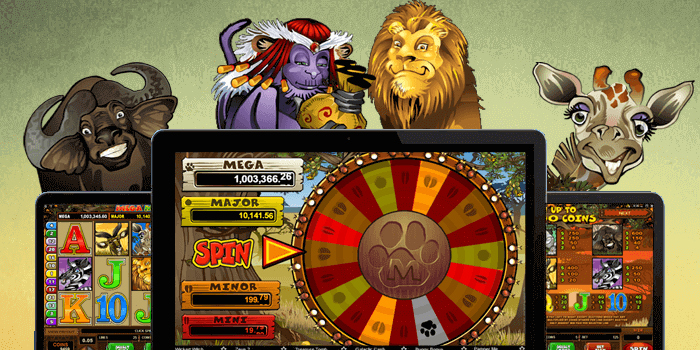 Guides and Feature Articles Similar to this Topic