Live Casino solutions provider Evolution Gaming is prepping to debut CRAZY TIME, the most fun game ever created in casino history according to the developer. This title has a game show theme, and it is fun to watch as well as play, making it an entertaining experience for players and spectators alike. Leovegas players will get a special first glance at the title, 3 weeks ahead of its wider release.
LeoVegas will launch the game on its site on the 10th of June 2020. Players will count themselves lucky as this launch will feature an exclusive cross-vertical special campaign over 3 weekends. This is open to players from all markets except Spain, Denmark, Sweden, and Schleswig-Holstein.
Under the hood
Crazy Time concept is themed as a Live Casino game within a fascinating amusement park studio. There is a main money wheel with a Top Slot above it and 4 exhilarating bonus games.
The money wheel holds the promise of amazing potential while the Top Slot allocates multipliers to bet spots on the numbers and bonus games on the wheel's 54 segments. The game has an above-average RTP of 96.08% and the wheel contains 4 bonus games, namely Coin Flip, Cash Hunt, Pachinko, and Crazy Time.
Multiplier mayhem
The Money Wheel and Top Slot both spin at the beginning of each round. This triggers the Crazy Time Top Slot, either revealing random multipliers that boost your payout or gifting you a bonus round on one of the 4 bonus games.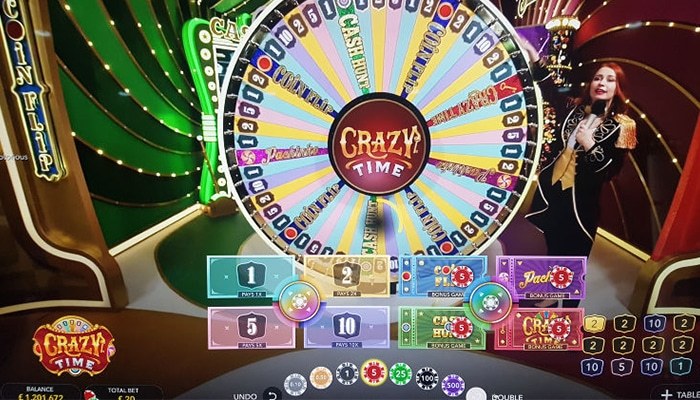 The bonus games:
Coin Flip
A coin with red and blue sides has a multiplier assigned to each side and is flipped to assign either the red or blue multiplier to your wager. A smaller win will occasionally result in the complimentary Rescue Flip feature being triggered. This gives you a second chance coin-flip and possibly a much larger multiplier.
Cash Hunt
Cash Hunt is a shooting-range theme styled bonus game where you choose your target from a selection of 108 symbols. After you choose your target a cannon shoots at it, uncovering a multiplier prize that is applied to your wager.
Pachinko
This feature channels a popular Japanese game where pucks fall from drop zones at the top to landing zones at the bottom. The landing zones are each allocated a random multiplier at the beginning of each round and the puck falls to the bottom through a series of pegs to eventually land on your prize. Your bet is multiplied by the amount that the puck lands on but if it lands on a 'DOUBLE' or 'TRIPPLE' zone, all the multipliers in the landing zones will double or triple in value. New pucks will be dropped until a multiplier value is achieved. The top potential for this feature is 10,000x and a Rescue Drop feature similar to the Coin Rescue can also make an appearance.
Crazy Time
A red door conceals a huge massive virtual wheel in a theme-park environment. The wheel has 64 segments that hold multipliers and a potentially endless series of wins. Each segment is assigned a multiplier value at the beginning of the round and there are additional 'DOUBLE' and 'TRIPPLE' zones. You will have to select a green, blue, or yellow flapper that each point to a different segment. The segment the lands on your chosen colour will give you a multiplier or one of the 'DOUBLE' or 'TRIPLE' zones that will boost the value of all the segments. The maximum potential for this bonus feature is 20,000x.
Crazy Time Live Campaign
LeoVegas' special promotion comes in 2 parts. Firstly, you will have access to a tournament that stretches over 3 weekends that features a weekend leaderboard. The promo runs from the 12th to the 28th of June, from Fridays at 16:00 until Sunday 23:59 CEST. The next part is a cross-sell between live casinos where your wager gives you a shot at a spin on the wheel.
Weekend Tournaments
The weekend tournaments will start on Fridays at 16:00 and conclude on Sundays at 23.59 CEST. You will get 1 point for every $1 in net-wins that you receive. The points are counted and put up on the daily Leaderboard and you could win the grand prize of $2,000 out of a total prize pool of $7,500. All prizes are paid out within 48 hours and can be claimed within 7 days.
1st Weekend Tournament
Start Date: Friday 12th June 2020
End Date: Sunday 14th June 2020
2nd Weekend Tournament
Start Date: Friday 19th June 2020
End Date: Sunday 21st June 2020
3rd Weekend Tournament
Start Date: Friday 26th June 2020
End Date: Sunday 28th June 2020
The leaderboard prize allocation will work as follows:
| | |
| --- | --- |
| Number of winners | Prize |
| 1 | $2,000 |
| 1 | $1,500 |
| 1 | $1,000 |
| 2 | $500 |
| 5 | $200 |
| 10 | $100 |
| Total | $7,500 |
Cross-vertical Live Casino to Casino
This cross-promotion kicks in when you wager $20 in Crazy Time. This gives you a free go aft the Spin Wheel on Starburst the following day at 8 pm CEST. This offer will be active from Sunday to Thursday between the 14th – 18th and the 21st – 25th of June.
The promotion has a 2-week run-time with the below times:
Start Date week 1: Sunday 14-06-2020
End Date week 1: Thursday 18-06-2020
Start Date week 2: Sunday 21-06-2020
End Date week 2: Thursday 25-06-2020